Using Promotional Products to Support Breast Cancer Awareness
published: May 28, 2019 | updated: April 16, 2020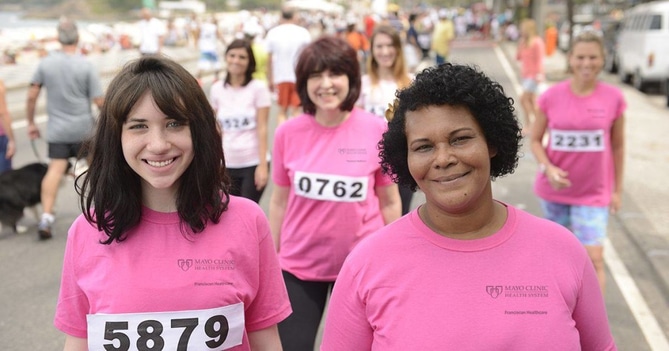 1. Fundraising
Promotional products are a great way to raise funds for breast cancer research, education, and future awareness efforts. Choosing breast cancer awareness merchandise that people will find fun or useful, such as custom bags & totes or fundraising kits with an inspirational message or your organization's logo is a great first step.
In addition to bags and totes and kits, the best categories for fundraising include:
2. Education
Use promotional products to educate people on risk factors, signs and symptoms, and early detection. Education is one of the best ways to increase the rate of early detection and connect those in need with resources in their community. Promotional products such as calendars and bookmarks can help share the name, address, phone number or website of informational resources that people can use to learn more about the disease.
In addition to the products above, these categories are also very effective in spreading an educational message:
3. Workplace Events
Plan a workplace event in October, where employees can pick up information and donate to the cause. Reward those who donate with a themed personal care item or custom lanyard.
Other popular options for workplace awareness events include:
4. Community Events
Host, sponsor or participate in an event in your community in support of a person who is fighting the disease or an organization that directly helps with research, resources, education or awareness for Breast Cancer. Charity 5K Walk/Runs and car washes are excellent examples of this. Hand out branded bottles of water and add a personalized tag with your logo to each one for an added touch.
Or, hand out custom printed items to keep people thinking about breast cancer prevention long after the event is over:
5. Volunteer and Donor Appreciation
Reward those who have volunteered at events or donated to your cause with a thoughtful gift to show your appreciation. Engraved writing sets and insulated bottles are cost-effective items that make great gifts. Recipients will be reminded of the impact of their support every time they use these items and may encourage them to participate again next year.
Reward larger donors with a memorable gift such as:
The need for awareness spreads far beyond just the month of October. Let's spread the word about breast cancer treatment and prevention all year long with custom promotional products. Any of our wide range of promotional merchandise can be customized with your logo and an awareness message and our Promotional Products Experts can help you put your ideas into action.
You might also be interested in promotional product ideas for American Heart Month and ways to support men's health in Movember.