2021 Employee Appreciation Days, Weeks & Months for Your Industry
published: January 29, 2021 | updated: April 22, 2021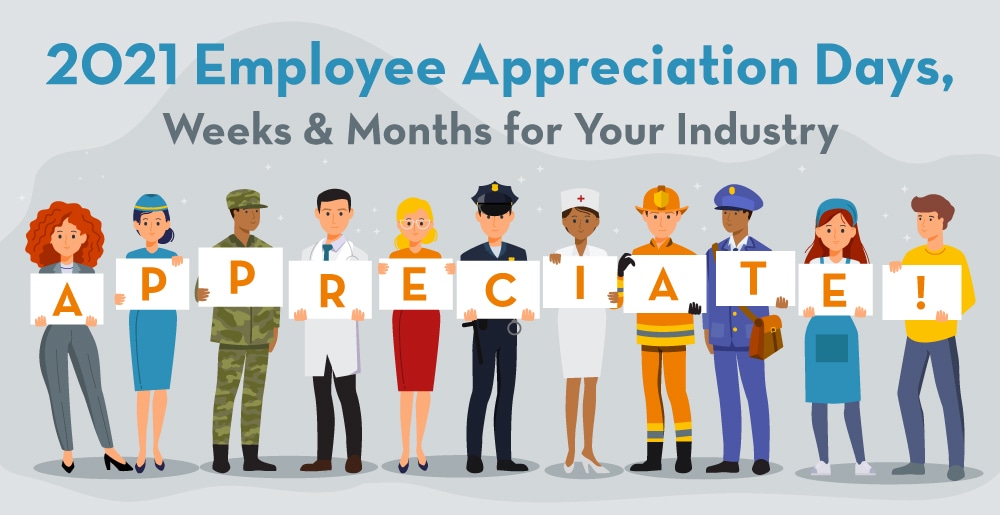 With a challenging 2020 behind us, 2021 is the time to spread positivity by recognizing and showing appreciation to your employees and clients for their dedication and contributions. More than ever, professional recognition and employee appreciation are essential for morale, engagement, and retention. While every day is worth celebrating and any time is the right time to express appreciation, there are special days and weeks on our appreciation calendar dedicated to providing recognition that give employers and national professional associations a chance to say thank you. Custom corporate gifts and promotional kits are the perfect way to show your appreciation. Start planning your celebrations with the list of national appreciation days and weeks below.
Appreciation Holidays for Any Type of Business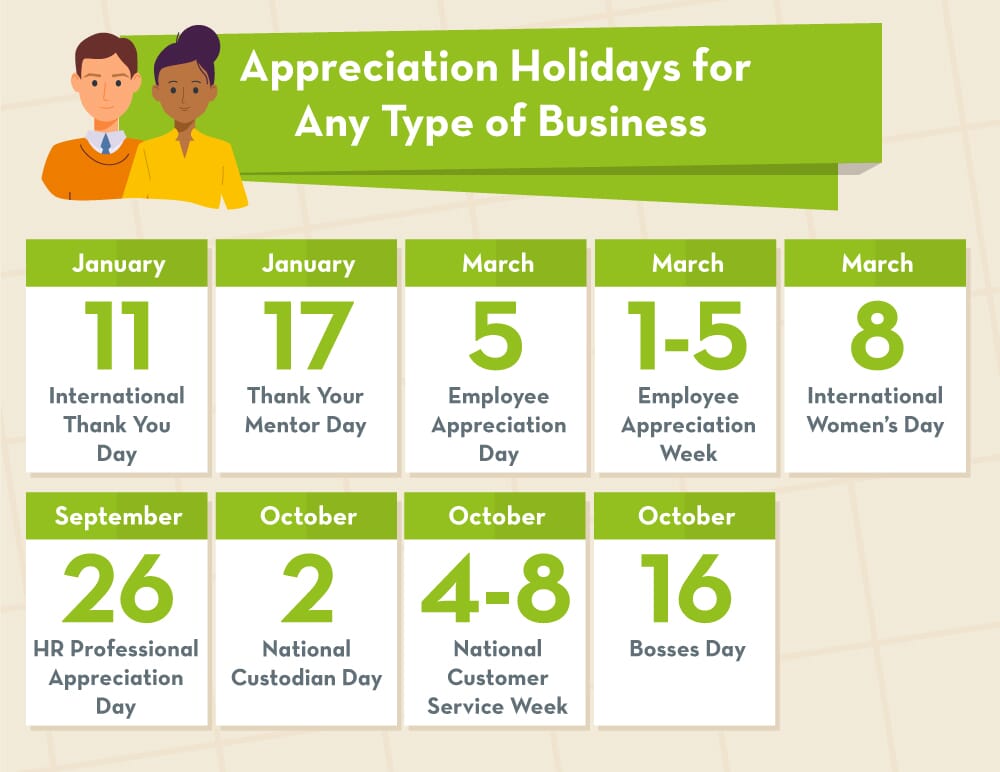 Get clever with appreciation messaging by adding fun sayings to gifts, such as "You've got the write stuff" on a notebook. For more ideas, check out 10 Motivational Quotes & Sayings for Employee Appreciation Gifts.
Office Workers Appreciation Holidays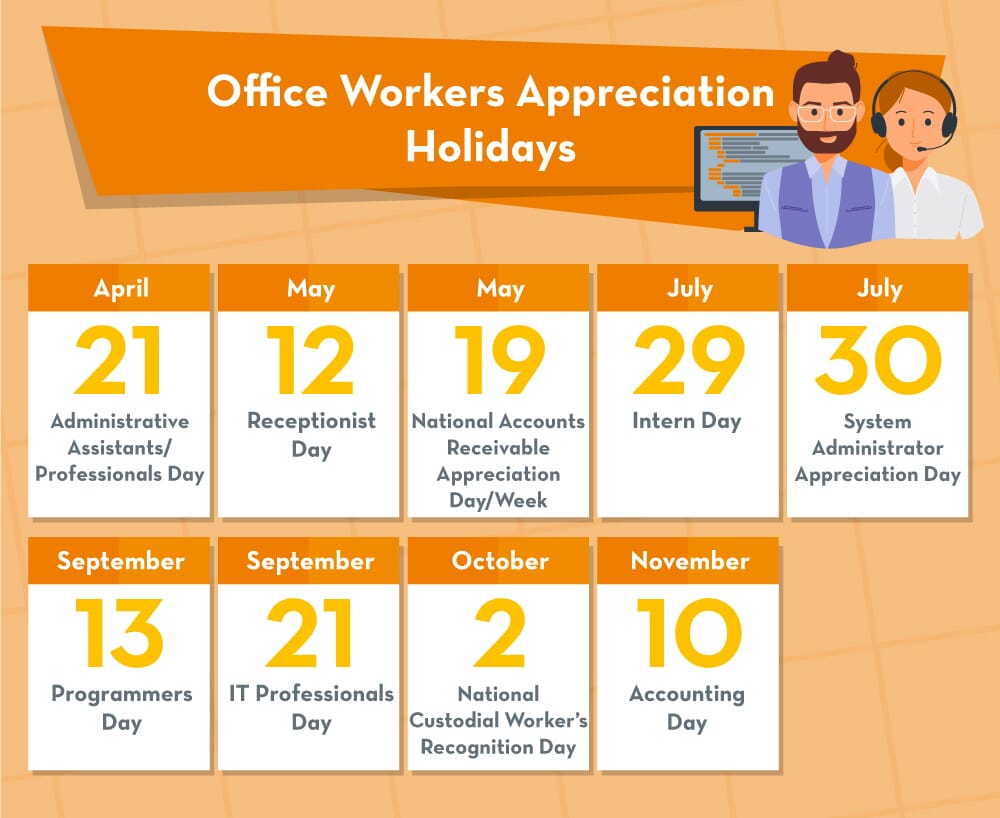 | | | |
| --- | --- | --- |
| Administrative Assistants/Professionals Day (April 21) | Receptionist Day (May 12) | National Accounts Receivable Appreciation Day/Week (May 19) |
| Intern Day (July 29) | System Administrator Appreciation Day (July 30) | Programmers Day (September 13) |
| IT Professionals Day (September 21) | National Custodial Worker's Recognition Day (October 2) | Accounting Day (November 10) |
Education Appreciation Events - National School Appreciation Days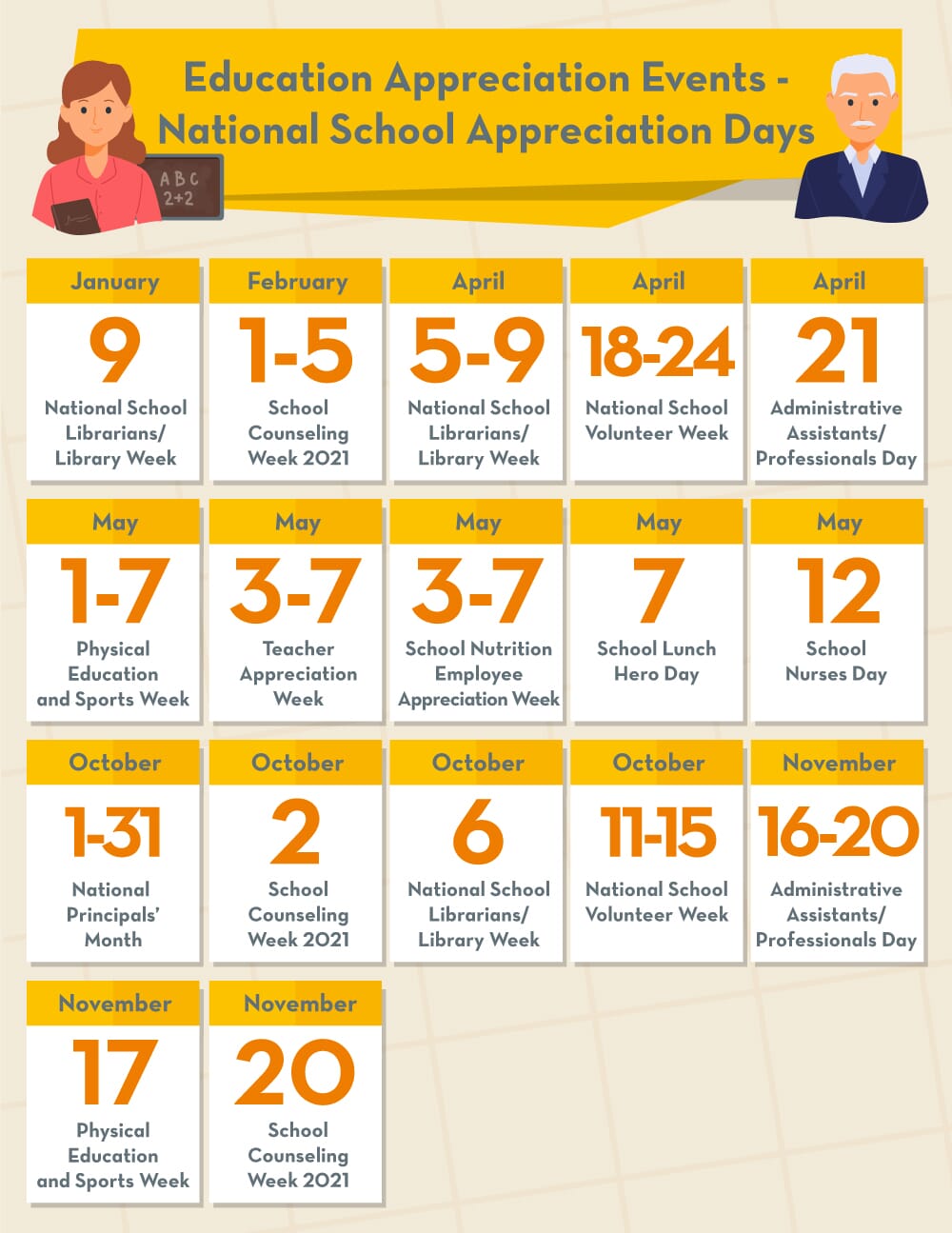 School Resource Officers Day (January 9)
School Counseling Week 2021 (February 1-5)
National School Librarians/Library Week (April 5-9)
National School Volunteer Week (April 18-24)
Administrative Assistants/Professionals Day (April 21)
Physical Education and Sports Week (May 1-7)
Teacher Appreciation Week (May 3-7)
School Nutrition Employee Appreciation Week (May 3-7)
School Lunch Hero Day (May 7)
School Nurses Day (May 12)
National Principals' Month (October)
School Custodian & Grounds Appreciation Day (October 2)
Coach Appreciation Day (October 6)
National School Bus Safety Week/School Bus Drivers Appreciation (October 11-15)
American Education Week (November 16–20, 2020)
National Education Support Professionals (November 17)
Substitute Educator Appreciation Day (November 20)
Wondering what items make the perfect appreciation gifts for teachers? We gathered feedback from teachers themselves on some of the favorite recognition gifts they've received. Read more about Awesome Gift Ideas for Teacher Appreciation Week According to Teachers. Add some creativity to your messaging and logo by checking out 10 Teacher Appreciation Sayings and Quotes for some inspiration.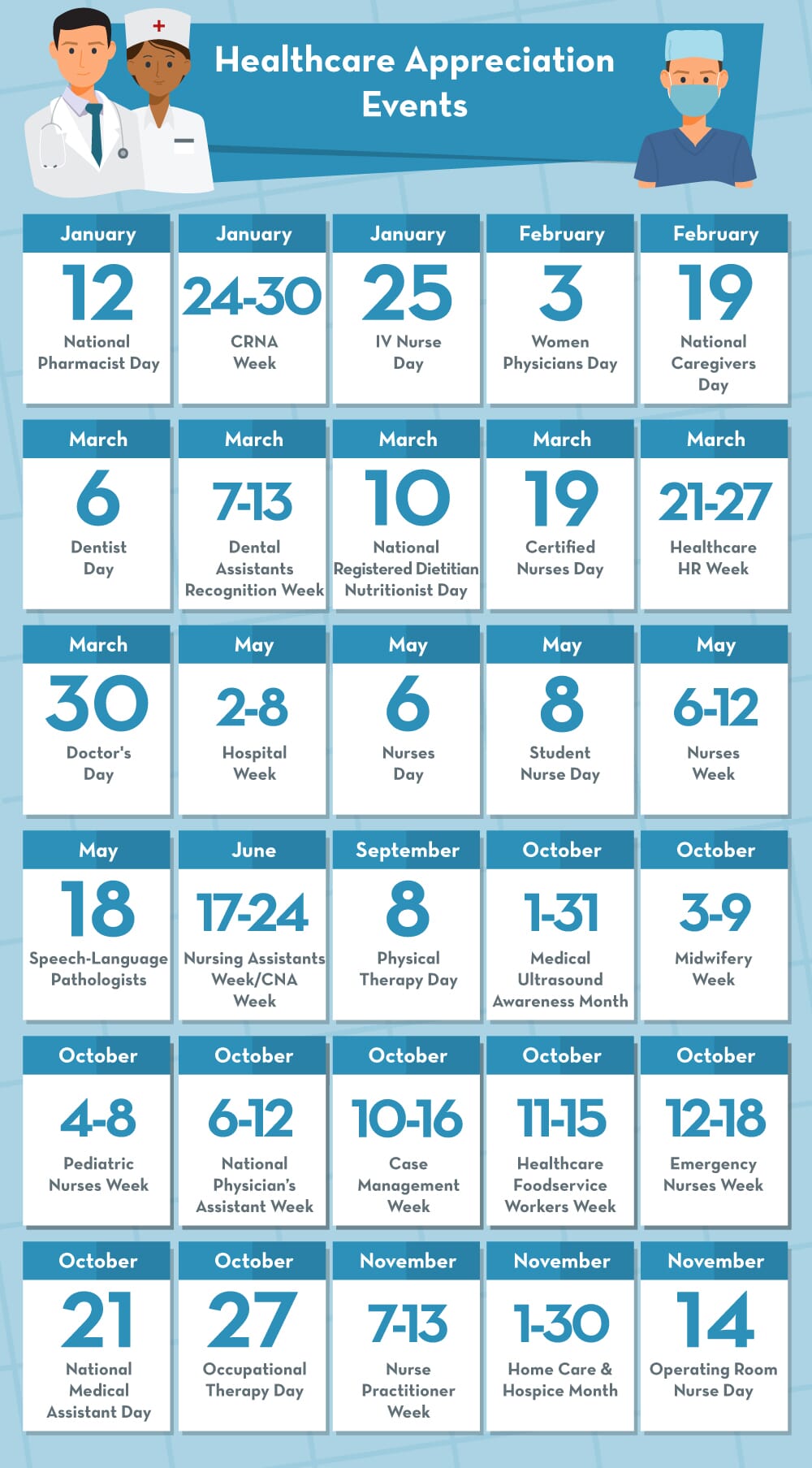 | | | |
| --- | --- | --- |
| National Pharmacist Day (January 12) | CRNA Week (January 24-30) | IV Nurse Day (January 25) |
| Women Physicians Day (February 3) | National Caregivers Day (February 19) | Dentist Day (March 6) |
| Dental Assistants Recognition Week (March 7-13) | National Registered Dietitian Nutritionist Day (March 10) | Certified Nurses Day (March 19) |
| Healthcare HR Week (March 21-27) | Doctor's Day (March 30) | Hospital Week (May 2-8) |
| Nurses Day (May 6) | Student Nurse Day (May 8) | Nurses Week (May 6-12) |
| Speech-Language Pathologists (May 18) | Nursing Assistants Week/CNA Week (June 17-24) | Physical Therapy Day (September 8) |
| Medical Ultrasound Awareness Month (October) | Midwifery Week (October 3-9) | Pediatric Nurses Week (October 4-8) |
| National Physician's Assistant Week (October 6-12) | Case Management Week (October 10-16) | Healthcare Foodservice Workers Week (October 11-15) |
| Emergency Nurses Week (October 12-18) | National Medical Assistant Day (October 21) | Occupational Therapy Day (October 27) |
| Nurse Practitioner Week (November 7-13) | Home Care & Hospice Month (November) | Operating Room Nurse Day (November 14) |
Take your custom gifts for nurses to the next level with 10 Inspirational Nursing Quotes & Sayings.
Human Services Appreciation Events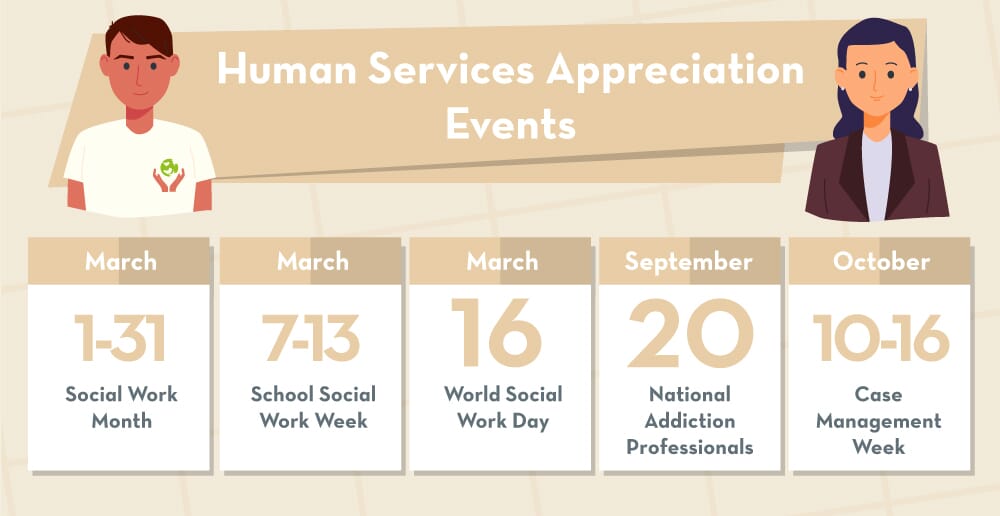 Social Work Month (March 2021)
School Social Work Week (March 7-13)
World Social Work Day (March 16)
National Addiction Professionals (September 20)
Case Management Week (October 10-16)
Military, Police, Fire, First Responders Appreciation Events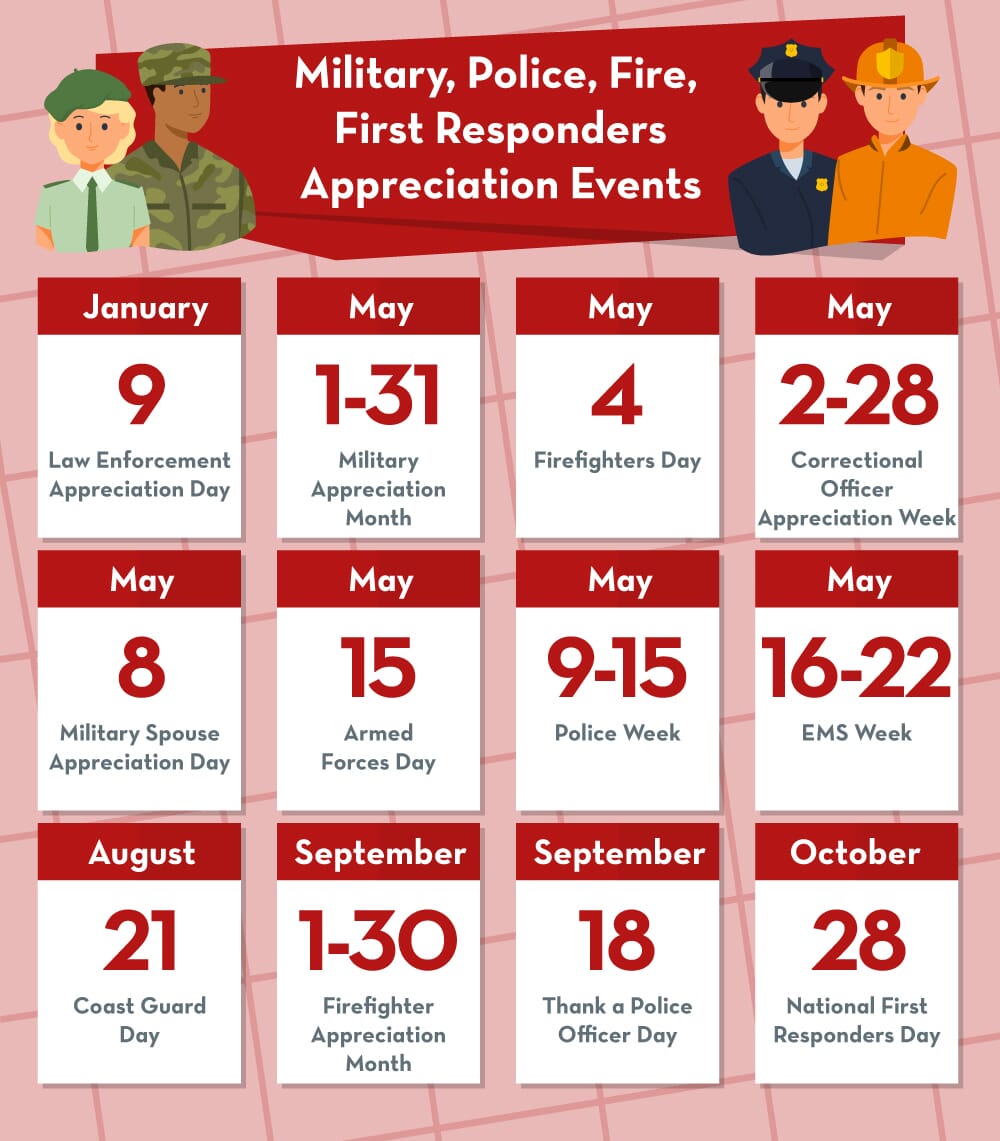 Law Enforcement Appreciation Day (January 9)

Public Safety Telecommunications Week (April 11-17)
Military Appreciation Month (May)
Firefighters Day (May 4)
Correctional Officer Appreciation Week (May 2-8)
Military Spouse Appreciation Day (May 8)
Armed Forces Day (May 15)
Police Week (May 9-15)
EMS Week (May 16-22)
Coast Guard Day (August 21)
Firefighter Appreciation Month (September)
Thank a Police Officer Day (September 18)
National First Responders Day (October 28)
Earth Appreciation & Environmental Awareness Days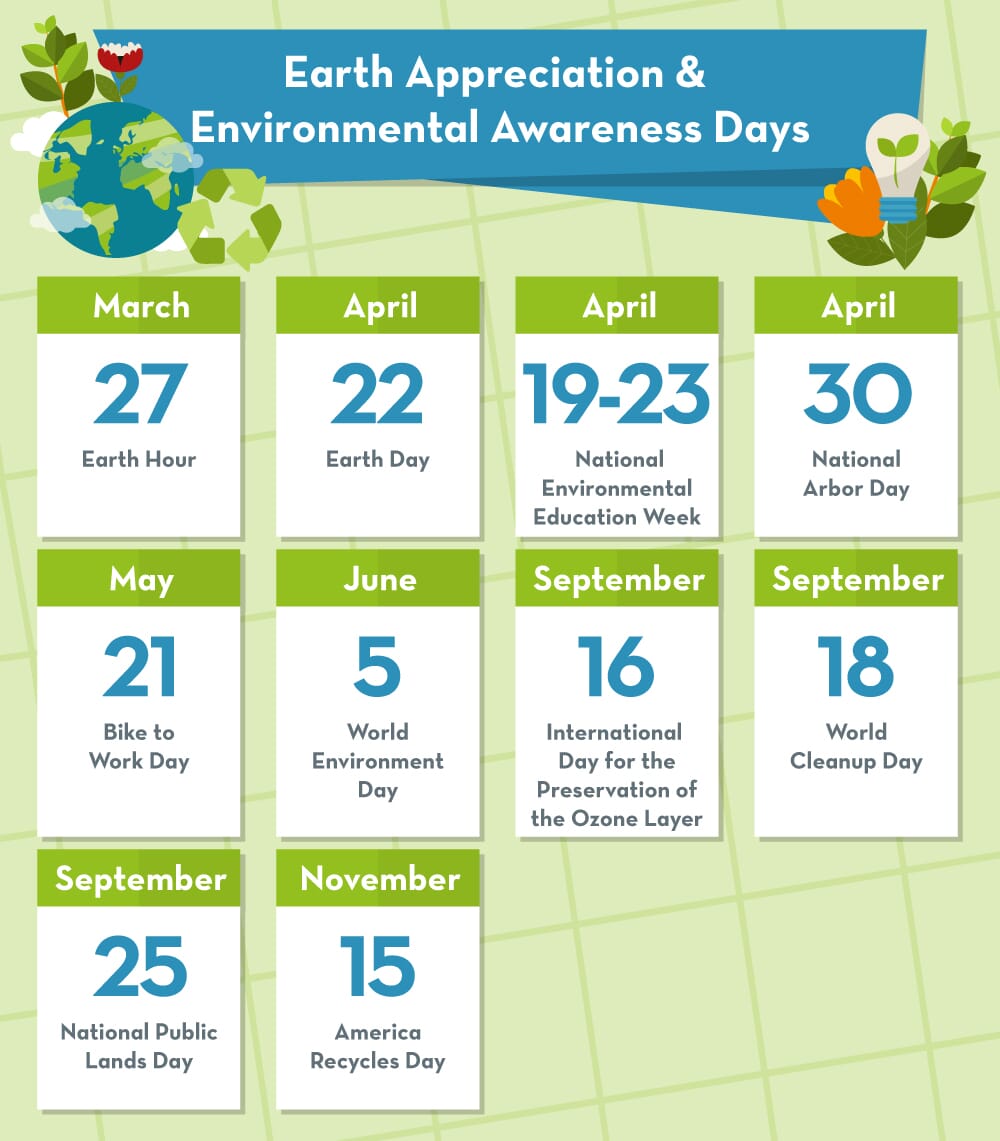 Earth Hour (March 27)
Earth Day (April 22)
National Environmental Education Week (April 19-23)
National Arbor Day (April 30)
Bike to Work Day (May 21)
World Environment Day (June 5)
International Day for the Preservation of the Ozone Layer (September 16)
World Cleanup Day (September 18)
National Public Lands Day (September 25)
America Recycles Day (November 15)
Appreciation Days & Weeks for Everyone Else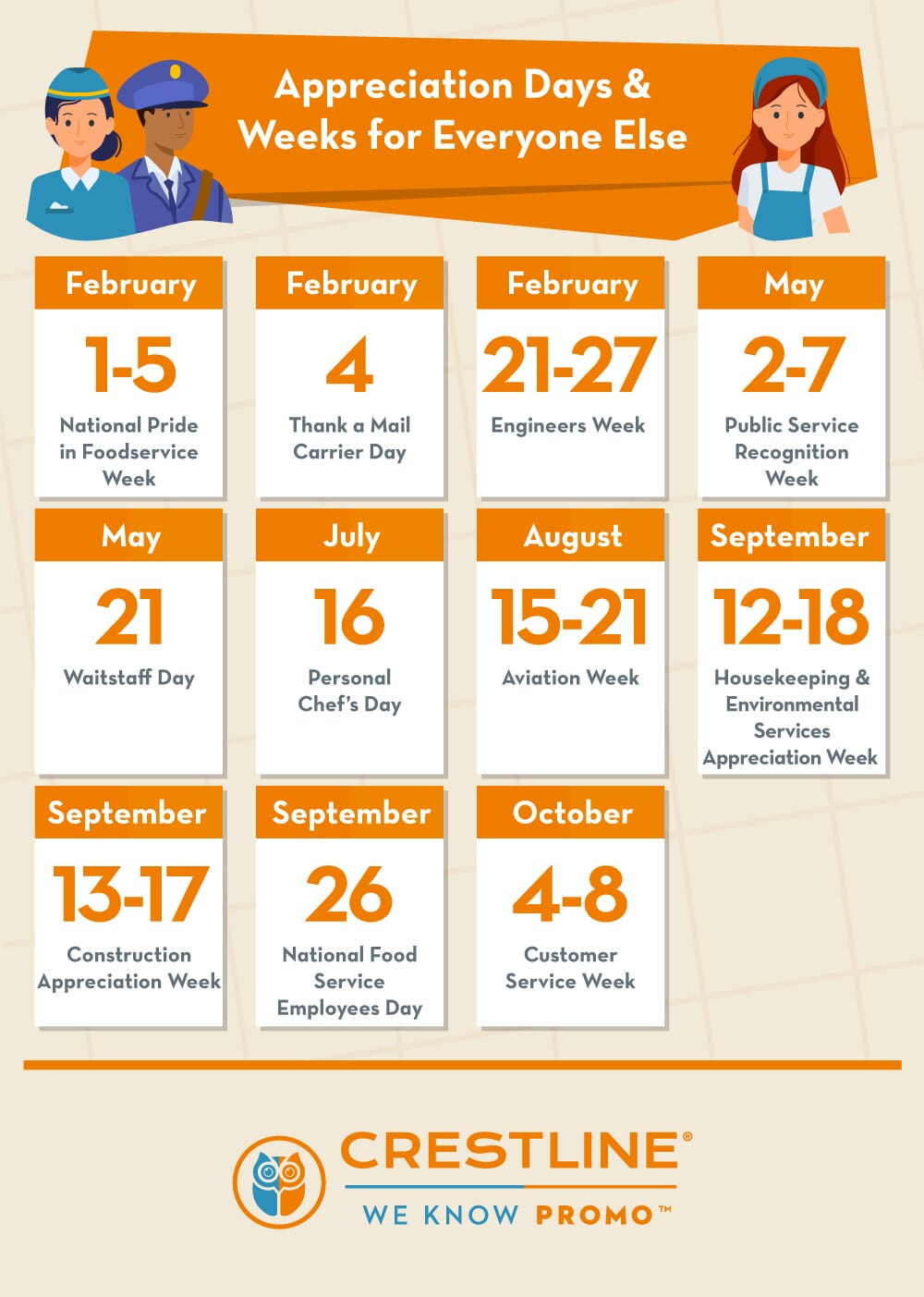 National Pride in Foodservice Week (February 1-5)
Thank a Mail Carrier Day (February 4)
Engineers Week (February 21-27)
Public Service Recognition Week (May 2-7)
Waitstaff Day (May 21)
Personal Chef's Day (July 16)
Aviation Week (August 15-21)
Housekeeping & Environmental Services Appreciation Week (September 12-18)
Construction Appreciation Week (September 13-17)
National Food Service Employees Day (September 25)
Customer Service Week (October 4-8)
Even if your employees or clients are working remotely or have locations across the US, it's still easy to get personalized employee appreciation gifts in their hands that are sure to impress with our drop shipping and in-house kitting services.
Looking for more national days and reasons to celebrate? Visit our full calendar of events. Beyond the traditional holidays season events, PromoManagers' event calendar features a list of unique and fun events like barbeque day, garden month, and ice cream day.
Plus, you can give your employees and clients a reason to celebrate every day with a customized 2021 National Days Calendar imprinted with your company logo or message.
You may also be interested in: