The Best Corporate Holiday Gift Ideas for 2021
published: October 24, 2019 | updated: June 25, 2021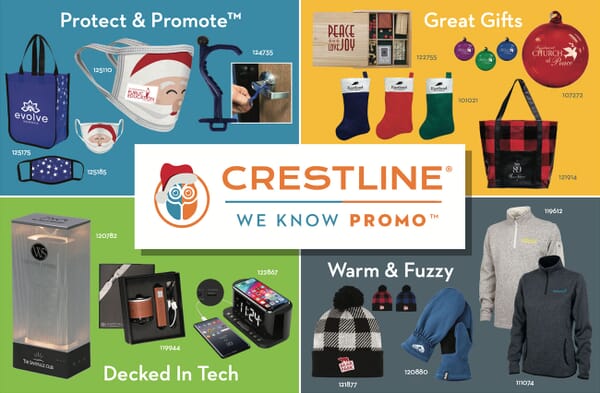 Tis the season to be thankful and it's time to plan your holiday gift-giving for all the important people on your list. The past two years have been challenging, but your employees adapted, and your customers stuck with you. Don't miss this opportunity to show them that you noticed. Our 2021 holiday business gift selection includes a sleigh full of unique and personalized corporate gift options to recognize, thank, and appreciate. We strive to make gift-giving easy and stress-free for you and wish you all a very successful holiday season!
Read on or jump to the section that interests you most:

Holiday Helpers to Make Gift Giving Easy
Even if your budget is low and you stress is sky high, we have the ideas and services to help you make merry!
Create Your Own Gift Sets with Kitting Services
Giving a gift set or kit that was made just for your team is a thoughtful way to show appreciation. These can be filled with products that you choose, personalized messages and packaging just for your recipients. Just decide what you want to give, and we will take care of the assembly.
Have Gifts Delivered Right to Each Recipient's Address
Now that many people are working remotely, it is important to be able to send gifts directly to each recipient's address instead of to an office location. With drop shipping, each individual will receive a customized gift that comes right to their front door. The best part is that PromoManagers will handle it all for you.
Get Expert Art & Design Help
Our graphics team will make sure your logo looks perfect on your finished presents. If you want to change up your artwork for the holidays, we can also transform your logo or image into a holiday masterpiece.
Personalize Gifts with Individual Names
How can you make custom holiday gifts even better? In addition to your logo or message, add each person's name to your items. We have a large selection of gifts that can be personalized, and some for as low as a dollar per person! Consult our Promotional Products Experts by phone or chat and they will help you to take advantage of any of the above holiday gifting services.
Now that it's clear how easy this year's shopping can be, let's figure out what to give. Here are the best corporate holiday gifts for 2021:

Custom Christmas Ornaments
Custom Christmas ornaments are a popular gift every year, and it's easy to see why. Your logo will be lit by glittering lights in the most festive part of the home, the Christmas tree. Many holiday ornaments also come in a presentation box that makes each gift ready-to-shine. Promotional Christmas ornaments are a budget-friendly choice, and many are shatterproof or flat, making them easy and inexpensive to mail.
Why not create a unique gift set by tucking a customized ornament and some sweet treats inside a Christmas stocking?

Creative Custom Food Gifts
Want to sweeten up someone's mood? Give food gifts that are as creative as they are scrumptious. Hot Cocoa on a Spoon becomes a cup of hot chocolate in minutes. The Spooner Mug Cake Set comes with your choice of cake mixes that the recipient can bake up in the microwave, right in the provided mug!
Send an Enchantment Gourmet Box filled with pretzels covered in different chocolates and sprinkles for those who need a little sugar rush. Or, choose Holiday Treat Packs with peppermint bark or sea salt caramel chocolate squares. Your logo is imprinted across a transparent box that shows off the goodies within. The packaging is the perfect size and shape for easy mailing.

Responsible Corporate Gifts
The holidays are a time for giving, so giving a gift that gives to others is a win/win. These responsible corporate gifts send a percentage of each purchase to charity. Giving the Soapbox® Healthy Hands Gift Set will allow your employees and customers to stay safe and trigger a donation of soap to someone in need. Add your logo to the 20 Oz Basecamp® Insulated Snowflake Bottle and they will donate a portion to the Wounded Warrior Project®. When you treat your audience to the 16 Oz Welly® Voyager Copper Vacuum Tumbler, you help provide clean drinking water to millions of people.

Gifts for Home Entertaining
There's no place like home for the holidays. Help make time at home more rewarding with gifts for family snack time and home entertaining. Our Woodlands Coaster Set are perfect for both small gatherings and home offices. The Rosewood Wine Set comes with a multi-tool including a bottle opener, corkscrew, and a knife, in a small, charming wooden gift box. Finally, with the Message Bamboo & Slate Cutting Board your recipients can write a fun message or identify fine cheeses while they serve.

Family Fun Gifts
You are sure to have lots of people on your list that have families of their own, so let them know that you support them with family fun gifts. The Movie Night Gourmet Popcorn Gift Set will have the whole family ready to settle in at night and watch a holiday classic. The Brain Games game set will keep everyone on their toes and keep their minds sharp as they play word games and brain teasers. The Do-It-Yourself Ice Cream Kit Box provides everything needed to have a sweet after dinner delight, and it comes in a mail-ready package. Complete with cups, toppings, and ice cream scoops, all they'll have to do is choose their favorite flavors.

Warm and Fuzzy Gifts
Nothing says that you care more than giving a warm and fuzzy gift that they can cozy-up in. The Leeman™ Heathered Knit Scarf is the perfect thing to keep them warm out in the cold. The North Face® Ridgeline Soft Shell Jacket comes from a classic brand, trusted to keep people perfectly toasty. Fuzzy Feet Slipper Socks are perfect for gathering around the fireplace (or space heater) for holiday stories.

Perfectly Plaid Gifts
Corporate Christmas apparel gifts don't have to be limited to office wear. Instead, give your employees cozy plaid pajamas to enjoy at home during vacation. These Flannel Lounge Pants are great for winter and come in enough sizes to accommodate everyone. The Buffalo Plaid Pom Beanie is perfect for everything from outdoor adventures to trips to the grocery store.
You can't literally send a hug through the mail, but our Plaid Fleece Blanket is the next best thing. This imprinted throw is a blissful accompaniment to binge-watching favorite shows while snow falls outside. The soft fabric is as comfortable as it is warm.

Decked in Tech
Tech enthusiasts used to be a separate hobby group. But in 2021, that group includes everybody with a cell phone or a laptop. Deck the calls with Popsockets® phone grips or budget friendly and easy to mail Silicone Tech Pockets, which are handy wallets that stick to the backs of phones. Light up dark winter nights with your brand when you customize the Illuminated Logo Bluetooth® Speaker. Other top tech gift choices include mouse pads that double as phone chargers and power banks .
Still not sure what business gifts to give this year? You may be interested in: